Flaunt Your Pride with Pantene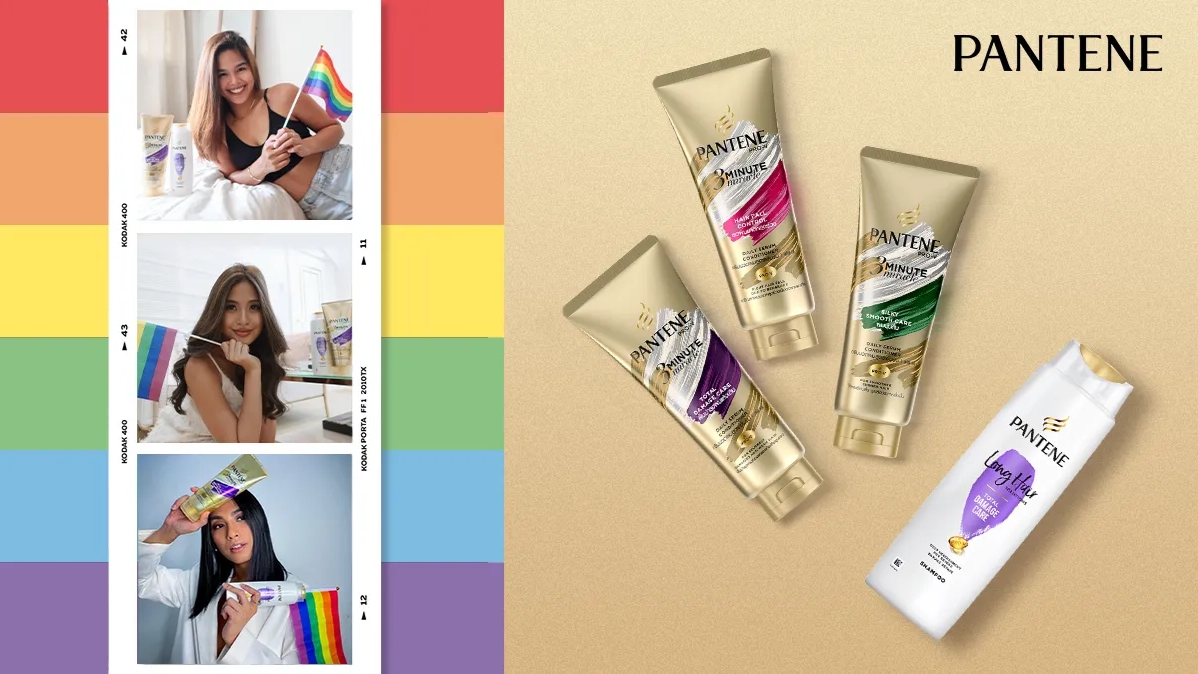 The freedom to fully express one's identity without fear of judgement is the fruit of years of fighting for equal rights and representation, and every June, we celebrate how far we've come with LGBTQIA+ Pride month.
It takes courage to embrace your truth and tell your story to the world. That's why it's important to put the spotlight on those who have already found the courage and confidence to flaunt their pride, so that they can inspire others to do the same — just like these strong women.
Mela's journey to womanhood began with her hair. After years of wearing synthetic wigs or putting a bath towel over her head, she finally let her hair grow long. "At first, I tried to joke about it, "Ma, pagbigyan mo na ako! Rocker na ako ngayon!" She shared on her Instagram post. As time went by, she realized that having straight, smooth, and jet black hair felt right. "I was meant to rock my hair with confidence."
She found pride in her crowning glory and made sure to give it the proper care it needed. "… Everytime people complimented my hair, my honest, consistent, and confident reply has always been, "Alagang Pantene yan!", Mela proudly shared in her Instagram post. "I have always flaunted my hair with pride because [it] reflects my journey to being the free and authentic Mela that I am today. As a proud trans woman with feminine expression, my hair has been my source of power. And that's definitely Salontastic!"
"As a member and supporter of the LGBTQIA+ community, I, too have my own journey in raising my voice for my happiness and myself." Chezka shared on her Instagram.
Chezka, like many others, was afraid of how her family and friends would react to her identity. So, she joined predominantly female activities like modelling and beauty pageants as she tried to figure out how she wanted to present herself. Later on she realized that she wanted to express herself physically as a woman, "…and that's why I started growing my long straight hair with Pantene. Because Pantene has always been there in helping me feel stronger and Salontastic! Flaunt your #Pride with Pantene. I'm truly thankful for my community in helping me understand them and myself. Know that you are not alone and that we are heard."
Allies also play a role in helping make the LGBTQIA+ community a safe space by fostering a culture of acceptance and respect, and advocating for equal rights and opportunities.
Gabbi, an ally, shows her full support for the LGBTQIA+ community in her Instagram post. "I've always been a proud supporter ever since I was young. I believe that everyone should be treated with love and respect. There is definitely no room for hate in this world! Everyone can be Salontastic regardless of gender!"
Let your hair take pride and flaunt it with Pantene Miracle Conditioners. With Pantene Keratin Straight Miracle Conditioner you can help reduce frizz for that sleek, straight look. While with Pantene Collagen Miracle Conditioner, you can turn dry, frizzy hair into shiny, Salontastic hair.*
Both conditioners are formulated with a blend of Pro-Vitamin B5, with special ingredients like Miracle Serum, real Collagen, and Keratin straighteners that moisturize hair and help strengthen hair against damage* to give you everyday #Salontastic results.
Take pride in your hair and get that #SalontasticTransformation with Pantene. Explore more from Pantene's wide range of haircare products through the P&G Shopee Mall store.